University Of Cincinnati College Essay Prompt 2013
Are you considering applying to one of the UC schools? UC schools are known for being one of the best state school systems available, regardless if you're an in-state or out-of-state student. To apply, here are the UC essay prompts you can expect.
Students choose 4 out of the 8 total UC essay prompts and respond with 350-word answers. The prompts were updated as recently as last year, so we can anticipate no change for the 2017-2018 application season. UPDATE: No major changes to the essay prompts this year! Just more details in essay prompt 6 & 8.
Here are the UC Essay Prompts for 2017-2018:
Leadership experience

Describe an example of your leadership experience in which you have positively influenced others, helped resolve disputes or contributed to group efforts over time.
Creative expression

Every person has a creative side, and it can be expressed in many ways: problem solving, original and innovative thinking, and artistically, to name a few. Describe how you express your creative side.
Talent or special skill

What would you say is your greatest talent or skill? How have you developed and demonstrated that talent over time?

Overcoming educational barrier

Describe how you have taken advantage of a significant educational opportunity or worked to overcome an educational barrier you have faced.

Overcoming significant challenge

Describe the most significant challenge you have faced and the steps you have taken to overcome this challenge. How has this challenge affected your academic achievement?

Academic inspiration

Think about an academic subject that inspires you. Describe how you have furthered this interest inside and/or outside of the classroom.
Bettering the community

What have you done to make your school or your community a better place?

What makes you special?

Beyond what has already been shared in your application, what do you believe makes you stand out as a strong candidate for admissions to the University of California?

Applying to college?
View the app files and essays of accepted students.
LEARN MORE
Are you planning to apply to University of California schools? Or you must just be starting the process of building your college list. Make sure to search through profiles of students accepted. Read full essays, stats, and student advice. See how our students got in, and how you can too!
About The Author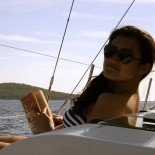 Frances Wong
Frances was born in Hong Kong and received her bachelor's degree from Georgetown University. She loves super sad drama television, cooking, and reading. Her favorite person on Earth isn't actually a member of the AdmitSee team - it's her dog Cooper.
Educational Prep Programs
AVID
Developed study skills, received mentorship, offered tutoring in math and received tutoring in critical reading.
National Youth Leadership Forum (Stanford)
Studied medicine at medical simulation center, received hands-on training in medical procedures, experienced life as a medical student.
Early Academic Outreach Program (EAOP)
Received academic and financial guidance in preparation for college.
Volunteer & Community Service
Intern at Children's Institute Otis Booth Campus
Brainstormed ideas for after school programs for teens,created surveys,presented data to supervisor
Member of Civics Committee
Provide mentorship support to ninth graders; responsible for assigning tutors, coordinating events.
Street Soccer Program
Volunteer for County Fair fundraising committee supporting underprivileged kids playing street soccer.
AWWA
Volunteered to support Centre for Caregivers events; Model Caregivers Awards. Helped write government proposals and helped get performers backstage ready.
Global Partner for International Orientation
I help new international students with registration and adjustment to the new school environment.
Work Experience
Administrative Assistant at Shingari's School of Rhythm
In charge of customer service, managing financial accounts, recording attendance, managing inventory, and all other administrative aspects
Childcare (Paid)
Worked 3-5 days a week taking care of two children, ages 1 and 3. Responsibilities included feeding, changing and regulating bed times.
Manager, Student Store
Developed student store policies, reviewed resumes and hired accordingly and worked part time as a cashier.
Coach and Technical Analyst, LA County Intramural Basketball
Led fitness sessions, trained others in technical fundamentals; also helped with video analysis.
Korean Compassion: Korean-to-English Letter Translator
Translated letters sent by supporters to impoverished children in Asian and African countries.
Awards & Honors
Speech and Debate
Academic All-American Award, NFL Tournament Qualifier ('11, '12), Rupe Scholar, Stanford Invitational Semi-finalist, Harker Invitational Semi-finalist
Player of the Tournament
Was named Best Player in the local Lincoln Heights Invitational.
Highest Scorer
Highest scorer in annual Carl Schubert trophy between Singapore and Malaysia's under-23 team.
"Iron Man" Award
Given for "outstanding athletic performance in keeping with the physical mission of the Naval Academy.
White Water Kayaking Nationals (5th place)
Competed at the 2013 United States Slalom National Competition in Bryson City (placed 5th). Paddled Class 5 rapids. Swift Water rescue certified
Extracurricular Activities
Founder and President of Model United Nations
Organize meetings, coach students for conferences, raise money and awareness for UNICEF causes, awarded "Outstanding Delegate" at every conference attended
Intern at the Los Angeles Superior Court
Assisted a Los Angeles District Attorney by researching relevant case laws, drafting briefs, and assisting with client interviews
Research Assistant at the UCLA Psychology Department
Assisted Dr. Negin Ghavemi with a study exploring the relationship between gender, age, and sexual identity in elementary and middle school
Indian Classical and Bollywood Dancer
SSR Scholarship, VMASC 1st Place Cinematic Dance, KCCNA 3rd pl. in folk, VMASC 1st Pl. Classical Dance, KALA Kalolsavam 1st Pl. Group Dance
Strings Orchestra
Played as a cellist in the school orchestra in various evening concerts and performances throughout the year.